Please scroll to the bottom for more images.
Dorantes Longtail
Urbanus dorantes
Hesperiidae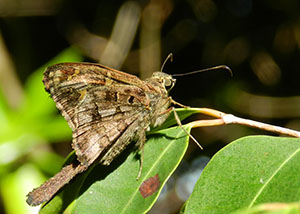 Copyright by: Beryn Harty, 2014
Description:
Small butterfly with a wingspan up to 2 inches. The body and wings are brown. The forewing has large clear or yellowish spots, with a dark brown band on the underside. A band of the lighter body color extends almost through the dark brown band. The underside of the hindwing has two bands of pale spots. The fringes of the two long tails are checkered. The caterpillar is green, or occasionally brown, with a dark brown or black head, a chain of yellow spots with a dark border along each side, and a dark line down the back.
Range:
North America north to California, West Indies, Central America, South America.
Map of native range by ZIP code north to Indian River and Manatee counties.
Distribution and Abundance in Florida:
Common; adults and caterpillars present all year in Florida. Tends to move north in Florida during the late summer and fall.
Habitat(s):
Hammocks, forest edges, and disturbed areas such as roadsides and overgrown fields.
Reproduction:
Three or more broods per year. The greenish eggs are laid singly on the leaves and flower stalks of the host plants.
Natural History:
This butterfly spends much of its time perching upside down under leaves; it rarely lands with its wings open.
Food:
Larval host plants include the native beggar's-ticks (Desmodium incanum) and cow-pea (Vigna luteola) and the nonnative Dixie ticktrefoil (Desmodium tortuosum). Nectar plants include the native narrowleaf yellowtops (Flaveria linearis), wild-sage (Lantana involucrata), snow squarestem (Melanthera nivea) and blue porterweed (Stachytarpheta jamaicensis) , the weedy native Spanish-needles (Bidens alba var. radiata), and the nonnative Mexican flamevine (Pseudognoxys chenopodioides).
Comments:
For more information, visit Butterflies and Moths of North America.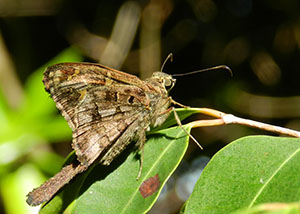 Copyright by: Beryn Harty, 2014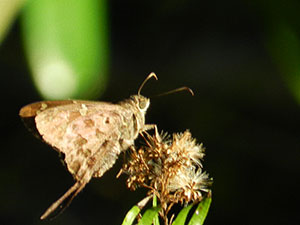 Copyright by: Beryn Harty, 2014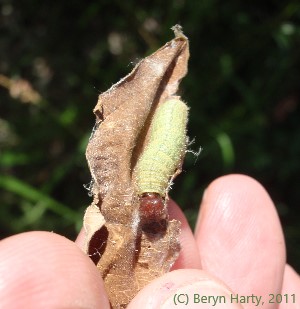 Copyright by: Beryn Harty, 2011
Larva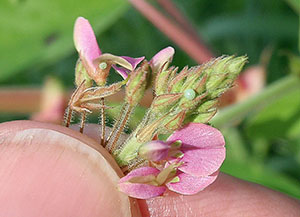 Copyright by: Beryn Harty, 2014
Eggs