Please scroll to the bottom for more images.
Northern Cloudywing
Thorybes pylades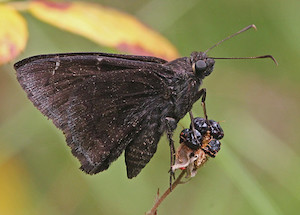 Description:
Small butterfly measuring up to 1 7/8" in length. The upperside is dark brown with clear, small, triangular spots. The underside is brown with gray overscaling with 2 dark bands. Caterpillars are greenish brown with a black head and many light colored hairs.
Range:
Widespread in North America south to southern peninsular Florida and northern Mexico; rare south of West Palm Beach and Fort Myers.
Habitat(s):
Scrub and forest edges.
Reproduction:
Light green to white eggs are laid under the leaves of host plants.
Natural History:
Caterpillars shelter in rolled or tied leaves and can hibernate.
Food:
Caterpillars feed on leaves of host plants. Larval host plants include the native groundnut (Apios americana), spurred butterfly-pea (Centrosema virginianum), Elliott's milkpea (Galactia elliottii), Eastern milkpea (Galactia regularis), and Florida hoarypea (Tephrosia florida). Adults nectar on plants with blue, purple, pink and white flowers.
Comments:
For more information, visit Butterflies and Moths of North America.