Please scroll to the bottom for more images.
Hammock Skipper
Polygonus leo
Hesperiidae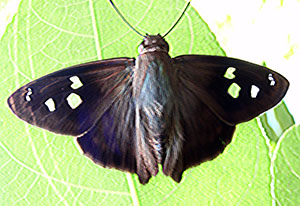 Copyright by: Beryn Harty, 2014
Description:
Medium-sized butterfly with a wingspan up to 2-5/16 inches. The upperside is blackish-brown with a bluish iridescent sheen; there are three large white spots and three small white spots on the forewing. The underside is grayish-brown with a bluish sheen and a black spot near the base of the hindwing. The caterpillar has a white, flattened head with a black line on the side and two black spots on the face. The thick, pale green body has many tiny yellow spots and a narrow yellow line on the side.
Range:
Extreme southern Florida, west to Texas and Arizona, south from Mexico to Central America, West Indies.
Map of native range by ZIP code north to Indian River and Manatee counties.
Distribution and Abundance in Florida:
Three or more broods per year in South Florida. Rare to uncommon most of the year in South Florida; uncommon to common all year in the Keys.
Habitat(s):
Openings in hardwood hammocks, lawns, and gardens.
Reproduction:
The green eggs are laid singly on the leaves of the host plants.
Natural History:
This butterfly often lands upside down with its wings closed on the underside of a leaf. The caterpillar lives in a shelter made of leaves held together by silk.
Food:
Larval host plants include the native Jamaica-dogwood (Piscidia piscipula) and the nonnative karum tree (Millettia pinnata). Nectar plants include the native Florida hammock milkpea (Galactia striata), wild-sage (Lantana involucrata), yellowroot (Morinda royoc), Florida Keys blackbead (Pithecellobium keyense), and sweetscent (Pluchea odorata), the weedy native Spanish-needles (Bidens alba var. radiata), and the nonnative shrubverbena (Lantana camara) and Mexican flamevine (Pseudogynoxys chenopodioides).
Comments:
For more information, visit Butterflies and Moths of North America.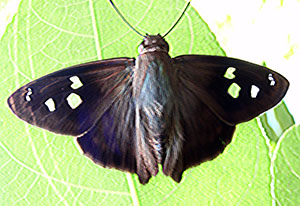 Copyright by: Beryn Harty, 2014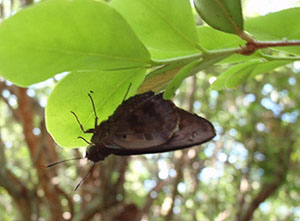 Copyright by: Beryn Harty, 2014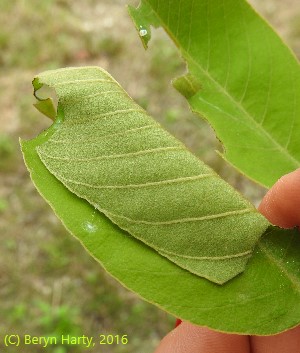 Copyright by: Beryn Harty, 2016
Caterpillar in shelter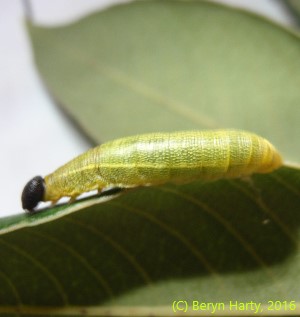 Copyright by: Beryn Harty, 2016
Caterpillar on Piscidia piscipula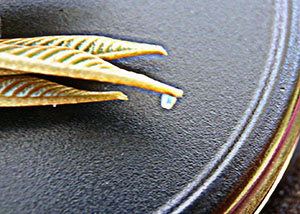 Copyright by: Beryn Harty, 2014
Eggs