Please scroll to the bottom for more images.
Eastern Pygmy-Blue
Brephidium pseudofea
Lycaenidae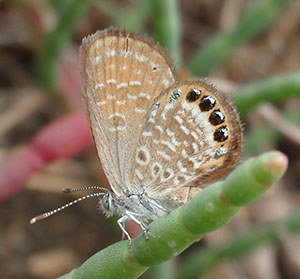 Copyright by: Beryn Harty, 2014
Description:
Tiny butterfly with a wingspan up to 5/8 inch. The upperside of the wings is copper brown; the underside of the hindwing and the fringes are dark brown. There are four black eyespots on the margin of the hindwing. The caterpillar is very small, slug-like, and bright green with a black head, faint markings and very small hairs. The pupa is typically yellowish-brown, with dark brown spots.
Range:
Southern United States, north to South Carolina and west to Texas; Bahamas.
Map of native range by ZIP code north to Indian River and Manatee counties.
Distribution and Abundance in Florida:
Locally uncommon; adults and caterpillars present February-November in most of Florida and all year in South Florida. Abundance varies from season to season and year to year.
Habitat(s):
Coastal marshes and tidal flats.
Reproduction:
Three or more broods per year. The flat, whitish or pale bluish-green eggs are laid on the stems of host plants.
Natural History:
Eastern pygmy-blues are weak, slow fliers. They rarely open their wings when perched. Males fly low over host plants, searching for females. Caterpillars may be tended by ants.
Food:
Native larval host plants include saltwort (Batis maritima), annual glasswort (Salicornia bigelovii) and perennial glasswort (Sarcocornia perennis). Native nectar plants include saltwort (Batis maritima) and the weedy Spanish-needles (Bidens alba var. radiata).
Comments:
For more information, visit The University of Florida IFAS Extension and Butterflies and Moths of North America.
Synonyms:
Brephidium isophthalma, Brephidium isophthalma pseudofea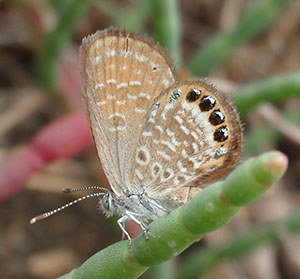 Copyright by: Beryn Harty, 2014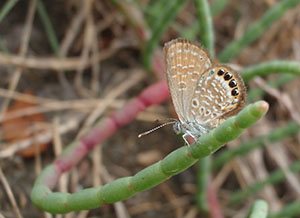 Copyright by: Beryn Harty, 2014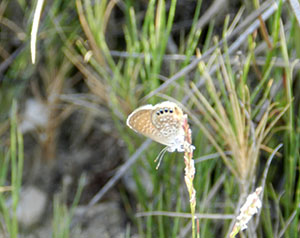 Copyright by: Beryn Harty, 2014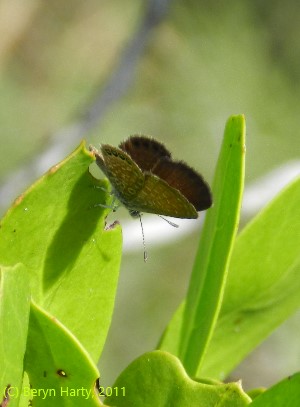 Copyright by: Beryn Harty, 2011
Copyright by
:
Mary Keim
, 2010. Eastern Pygmy-Blue (
Brephidium pseudofea
) on Silverhead (
Blutaparon vermiculare
).