Please scroll to the bottom for more images.
Cooper's Hawk
Accipiter cooperii
Description:
A medium-sized bird measuring up to 20 inches in length with a 28 inch wingspan. Adult is slate gray above, dark cap, and rusted below. Immiature is brown above and whitish below, with fine streaks. Tail is rounded.
Range:
Breeds from North America to central Mexico and winters from the United States to Central America.
Habitat(s):
Mixed forests and open woodlands.
Reproduction:
4 or 5 dull-white eggs are laid on a platform of sticks and twigs, usually more than 20 feet off the ground.
Food:
This species feeds on small birds, mammals, and reptiles.
Comments:
Can be found in South Florida during the winter months only. This species is listed as threatened or of special concern in a number of states.
References:
Kushlan & Hines (2014)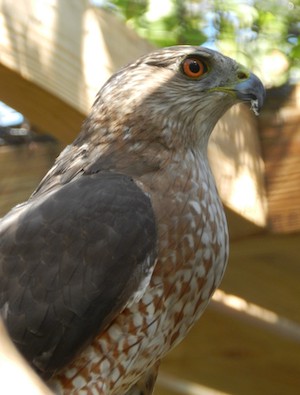 Copyright by: Beryn Harty, 2022.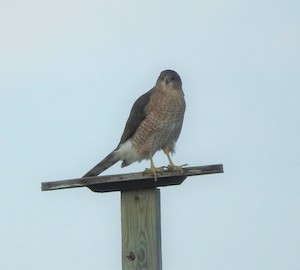 Copyright by: Beryn Harty, 2022.