Lake Ida Parcel Volunteer Day 2!
Wednesday, March 7, 2018
Back at it again! IRC will be holding our second Lake Ida Parcel volunteer day at the end of this month, on March 31st at 9:00am-12:00pm. Volunteers will help IRC to continue to restore this important greenspace by removing invasive plant species and picking up trash and debris. We will also be prepping the site for planting natives at upcoming events by raking up dense leaf litter dropped by invasive plants. Please remember to wear long pants and closed shoes!
Volunteers of all ages are welcome! We will meet at the Lake Ida Boat Ramp before shuttling participants to the site. All volunteers receive a free t-shirt! We will also have waters and light refreshments for the volunteers. Come join us!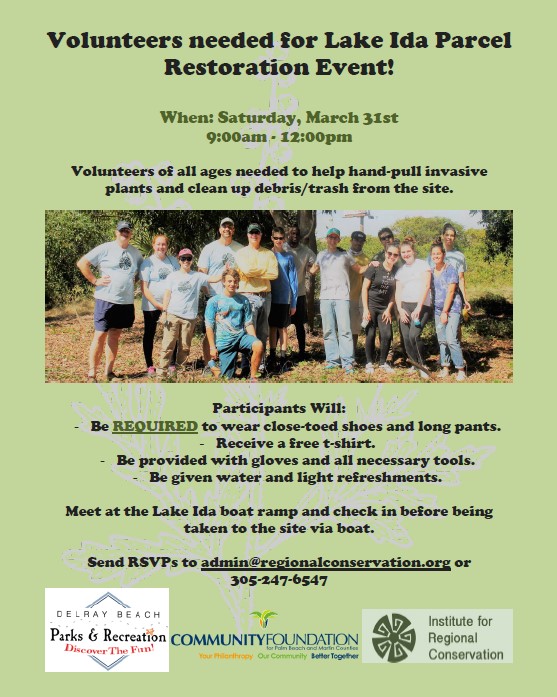 Lake Ida Volunteer Day 1 was a Success!
Monday, February 26, 2018
IRC would like to extend a huge thank you to all of the volunteers who made our first restoration event at the Lake Ida Parcel such a success on Saturday morning! Participants helped remove invasive plants like Acacia auriculiformis, Catharanthus roseus, Melinis repens, Panicum repens, Richardia grandiflora, Sansevieria hyacinthoides, Schinus terebinthifolius, Sida cordifolia, and Urena lobata from throughout this important passive greenspace. It's amazing to see how much can be accomplished when the community works together! Future events are scheduled for March 31 and May 5.
Thank you to the Community Foundation of Palm Beach and Martin Counties for funding this project and to Suzanne Fisher, Gerard Smith and Matt Reynolds from the Delray Beach Parks and Recreation Department for all of their help in organizing and coordinating these events. We would also like to thank Jim Chard for all of his support in bringing this project to life. Special thanks also go out to John Miller, Bill Bathurst and Ian Paterson for the use of their boats for shuttling supplies and volunteers at the event.
For more pictures from the event, click here