Please scroll to the bottom for more images.
Kalanchoe pinnata (Lam.) Pers.
Common liveleaf, Cathedral bells, Life plant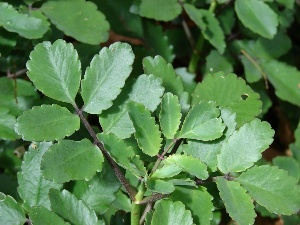 Family:
Crassulaceae
Group:
Dicot
Substrate:
Terrestrial
Habit:
Herb
Perennation:
Perennial
Map of select IRC data for peninsular Florida
FLEPPC Status:
Category II Invasive
SOUTH FLORIDA Occurrence:
Present
SOUTH FLORIDA Native Status:
Not Native, Naturalized
SOUTH FLORIDA Cultivated Status:
Cultivated
Comments:
For images, click on the USDA PLANTS and Atlas of Florida Vascular Plants links below.
Synonyms:
Bryophyllum pinnatum, B. calycinum.
Other data on Kalanchoe pinnata available from :
Kalanchoe pinnata has been found in the following 85 conservation areas :
Occurrence
Native Status
A.D. Doug Barnes Park
Present
Not Native, Naturalized
Alice C. Wainwright Park
Possibly Extirpated
Not Native, Naturalized
Arch Creek Park
Present
Not Native, Naturalized
Bahia Honda State Park
Present
Not Native, Naturalized
Barefoot Beach Preserve
Present
Not Native, Naturalized
Big Cypress National Preserve
Present
Not Native, Naturalized
Bill Baggs Cape Florida State Park
Presumed Extirpated
Not Native, Naturalized
Bill Sadowski Park
Present
Not Native, Naturalized
Biscayne National Park
Present
Not Native, Naturalized
Black Creek Forest
Present
Not Native, Naturalized
Blowing Rocks Preserve
Present
Not Native, Naturalized
Blue Heron Hammock, Florida Keys Wildlife and Environmental Area
Present
Not Native, Naturalized
Bonair Beach Parcel, Martin County
Present
Not Native, Naturalized
Caloosahatchee Creeks Preserve
Assumed to be Present
Not Native, Naturalized
Camp Owaissa Bauer
Present
Not Native, Naturalized
Cape Romano - Ten Thousand Islands Aquatic Preserve
Present
Not Native, Naturalized
Castellow Hammock parcel 31
Present
Not Native, Naturalized
Castellow Hammock Park
Present
Not Native, Naturalized
Cayo Costa State Park
Present
Not Native, Naturalized
Chapman Field Park
Present
Not Native, Naturalized
County Line Scrub, Miami-Dade County
Present
Not Native, Naturalized
Crandon Park
Present
Not Native, Naturalized
Crocodile Lake National Wildlife Refuge
Present
Not Native, Naturalized
Crystal Lake Sand Pine Scrub Natural Area
Present
Not Native, Naturalized
Dagny Johnson Key Largo Hammocks Botanical State Park
Possibly Extirpated
Not Native, Naturalized
Danforth Park
Possibly Extirpated
Not Native, Naturalized
Deering Estate at Cutler
Present
Not Native, Naturalized
Delray Oaks Natural Area
Present
Not Native, Naturalized
Dolphin Center and Dolphin Center Addition
Present
Not Native, Naturalized
Dove Creek Hammocks, Florida Keys Wildlife and Environmental Area
Present
Not Native, Naturalized
Dr. Von D. Mizell-Eula Johnson State Park
Present
Not Native, Naturalized
Dupuis Reserve
Present
Not Native, Naturalized
Everglades National Park
Present
Not Native, Naturalized
Fern Forest Nature Center
Present
Not Native, Naturalized
Frenchman's Forest Natural Area
Present
Not Native, Naturalized
Fuchs Hammock Preserve
Present
Not Native, Naturalized
George N. Avery Pineland
Present
Not Native, Naturalized
Gomez
Present
Not Native, Naturalized
Gopher Tortoise Preserve
Present
Not Native, Naturalized
Greynolds Park
Present
Not Native, Naturalized
Highlands Scrub Natural Area
Present
Not Native, Naturalized
Hillsboro Pineland Natural Area
Present
Not Native, Naturalized
Hobe Sound National Wildlife Refuge
Present
Not Native, Naturalized
Hugh Taylor Birch State Park
Present
Not Native, Naturalized
J.N. Ding Darling National Wildlife Refuge
Present
Not Native, Naturalized
John D. MacArthur Beach State Park
Present
Not Native, Naturalized
John Pennekamp Coral Reef State Park
Present
Not Native, Naturalized
Jonathan Dickinson State Park
Present
Not Native, Naturalized
Juno Dunes Natural Area
Present
Not Native, Naturalized
Jupiter Ridge Natural Area
Present
Not Native, Naturalized
Kendall Indian Hammocks Park
Present
Not Native, Naturalized
Kendalwood
Present
Not Native, Naturalized
Little Torch Hammocks, Florida Keys Wildlife and Environmental Area
Present
Not Native, Naturalized
Loggerhead Park
Present
Not Native, Naturalized
Long Key Natural Area & Nature Center
Present
Not Native, Naturalized
Loxahatchee Slough Natural Area
Present
Not Native, Naturalized
Luis Martinez United States Army Reserve Station, Richmond Pine Rocklands
Present
Not Native, Naturalized
Matheson Hammock Park
Present
Not Native, Naturalized
Miramar Pineland
Present
Not Native, Naturalized
Mound Key Archaeological State Park
Present
Not Native, Naturalized
Navy Wells Pineland Preserve
Present
Not Native, Naturalized
Oak Grove Park
Present
Not Native, Naturalized
Oleta River State Park
Present
Not Native, Naturalized
Pine Island Ridge Natural Area
Present
Not Native, Naturalized
Pine Jog Environmental Sciences Center
Present
Not Native, Naturalized
R. Hardy Matheson Preserve
Present
Not Native, Naturalized
Red Reef Park, including Gumbo Limbo Nature Center
Possibly Extirpated
Not Native, Naturalized
Rolling Oaks Park
Present
Not Native, Naturalized
Rookery Bay National Estuarine Research Reserve
Present
Not Native, Naturalized
Rosemary Scrub Natural Area
Present
Not Native, Naturalized
Savannas Preserve State Park
Present
Not Native, Naturalized
Seabranch Preserve State Park
Present
Not Native, Naturalized
Seacrest Scrub Natural Area
Present
Not Native, Naturalized
Sewell Park
Present
Not Native, Naturalized
Silver Palm Hammock
Present
Not Native, Naturalized
Simpson Park
Present
Not Native, Naturalized
Snake Creek Hammocks, Florida Keys Wildlife and Environmental Area
Present
Not Native, Naturalized
Stump Pass Beach State Park
Present
Not Native, Naturalized
Sunny Palms Pineland
Present
Not Native, Naturalized
Ten Thousand Islands National Wildlife Refuge
Present
Not Native, Naturalized
Tree Tops Park
Present
Not Native, Naturalized
Twin Rivers
Present
Not Native, Naturalized
Warbler Wetland Natural Area
Present
Not Native, Naturalized
Woodmont Natural Area
Present
Not Native, Naturalized
Yamato Scrub Natural Area
Present
Not Native, Naturalized