Please scroll to the bottom for more images.
Agave sisalana Perrine
Sisal-hemp
Family:
Asparagaceae
Group:
Monocot
Substrate:
Terrestrial
Habit:
Shrub
Perennation:
Perennial
Native Range:
Southern Mexico; widely cultivated and naturalized.
Map of select IRC data for peninsular Florida
FLEPPC Status:
Category II Invasive
SOUTH FLORIDA Occurrence:
Present
SOUTH FLORIDA Native Status:
Not Native, Naturalized
South Florida History and Distribution:
This was introduced to Indian Key in Monroe County in 1833 by Henry Perrine, and from there to Africa, Asia, and tropical America. It became both one of the world's most important strong fiber crops, and one of its most aggressive invasive weeds.
SOUTH FLORIDA Cultivated Status:
Cultivated
Comments:
For a review of the origin and history of
Agave sisalana
, see
Trejo-Torres et al. (2018)
, written by IRC Associate Carlos Trejo, George Gann, and Maarten Christenhusz.
Synonyms:
A. rigida, misapplied.
Other data on Agave sisalana available from :
Agave sisalana has been found in the following 66 conservation areas :
Occurrence
Native Status
Atlantic Dunes Park
Present
Not Native, Naturalized
Attwood Addition, Indian Key Historic State Park
Present
Not Native, Naturalized
Bahia Honda State Park
Present
Not Native, Naturalized
Big Cypress National Preserve
Present
Not Native, Naturalized
Bill Baggs Cape Florida State Park
Present
Not Native, Naturalized
Bill Sadowski Park
Present
Not Native, Naturalized
Biscayne National Park
Present
Not Native, Naturalized
Blue Heron Hammock, Florida Keys Wildlife and Environmental Area
Present
Not Native, Naturalized
Cape Romano - Ten Thousand Islands Aquatic Preserve
Present
Not Native, Naturalized
Castellow Hammock Park
Present
Not Native, Naturalized
Cayo Costa State Park
Present
Not Native, Naturalized
Curry Hammock State Park
Reported
Dagny Johnson Key Largo Hammocks Botanical State Park
Possibly Extirpated
Not Native, Naturalized
Deering Estate at Cutler
Present
Not Native, Naturalized
Delray Beach Municipal Beach
Present
Not Native, Naturalized
Dove Creek Hammocks, Florida Keys Wildlife and Environmental Area
Present
Not Native, Naturalized
Dry Tortugas National Park
Present
Not Native, Naturalized
Dupuis Reserve
Present
Not Native, Naturalized
Everglades National Park
Present
Not Native, Naturalized
Fuchs Hammock Preserve
Present
Not Native, Naturalized
Gasparilla Island State Park
Present
Not Native, Naturalized
Great White Heron National Wildlife Refuge
Present
Not Native, Naturalized
Gulfstream Park
Present
Not Native, Naturalized
Highlands Scrub Natural Area
Present
Not Native, Naturalized
Hugh Taylor Birch State Park
Present
Not Native, Naturalized
Indian Key Historic State Park
Present
Not Native, Naturalized
J.N. Ding Darling National Wildlife Refuge
Present
Not Native, Naturalized
John Pennekamp Coral Reef State Park
Present
Not Native, Naturalized
Jonathan Dickinson State Park
Present
Not Native, Naturalized
Juno Dunes Natural Area
Present
Not Native, Naturalized
Jupiter Ridge Natural Area
Present
Not Native, Naturalized
Key West National Wildlife Refuge
Present
Not Native, Naturalized
Larry and Penny Thompson Park
Present
Not Native, Naturalized
Lignumvitae Key Botanical State Park
Present
Not Native, Naturalized
Lignumvitae Key Botanical State Park, Klopp Tract
Present
Not Native, Naturalized
Little Torch Hammocks, Florida Keys Wildlife and Environmental Area
Present
Not Native, Cultivated Only
Loggerhead Park
Present
Not Native, Naturalized
Long Key State Park
Reported
Luis Martinez United States Army Reserve Station, Richmond Pine Rocklands
Present
Not Native, Naturalized
Matheson Hammock Park
Present
Not Native, Naturalized
Mound Key Archaeological State Park
Present
Not Native, Naturalized
National Key Deer Refuge
Present
Not Native, Naturalized
Navy Wells Pineland Preserve
Present
Not Native, Naturalized
Phipps Ocean Park
Present
Not Native, Naturalized
Pine Shore Preserve
Present
Not Native, Naturalized
Porter-Russell Pineland
Present
Not Native, Naturalized
Quail Roost Pineland
Present
Not Native, Naturalized
R. Hardy Matheson Preserve
Present
Not Native, Naturalized
Rock Pit 39
Possibly Extirpated
Not Native, Naturalized
Rockdale Pineland
Present
Not Native, Naturalized
Rookery Bay National Estuarine Research Reserve
Present
Not Native, Naturalized
Rosemary Scrub Natural Area
Present
Not Native, Naturalized
San Carlos Bay - Bunche Beach Preserve
Present
Not Native, Naturalized
Savannas Preserve State Park
Present
Not Native, Naturalized
Seabranch Preserve State Park
Present
Not Native, Naturalized
Silver Palm Groves
Present
Not Native, Naturalized
Snake Creek Hammocks, Florida Keys Wildlife and Environmental Area
Present
Not Native, Naturalized
Spoonbill Sound Hammocks, Florida Keys Wildlife and Environmental Area
Present
Not Native, Naturalized
Sugarloaf Hammocks, Florida Keys Wildlife and Environmental Area
Present
Not Native, Naturalized
Sunny Palms Pineland
Present
Not Native, Naturalized
Tigertail Beach County Park
Present
Not Native, Naturalized
Trail Glades Range
Present
Not Native, Naturalized
Trinity Pineland
Present
Not Native, Naturalized
Tropical Park
Present
Not Native, Naturalized
Windley Key Fossil Reef Geological State Park
Present
Not Native, Naturalized
Zoo Miami
Possibly Extirpated
Not Native, Naturalized
All Images: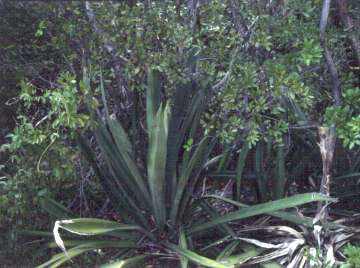 Copyright by: George D. Gann