Please scroll to the bottom for more images.
Indigo Bunting
Passerina cyanea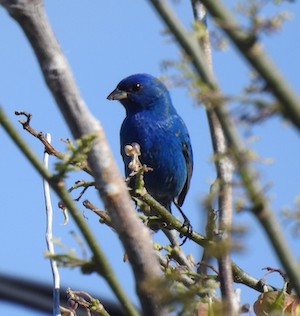 Copyright by: Beryn Harty, 2021.
Description:
A small bird measuring up to 5 inches in length. Male is dark blue all over with a darker blue head and female is dull brown with a white throat.
Range:
Breeds in North America and winters in South Florida, Mexico, Central America, northern South America, and the West Indies.
Habitat(s):
Open deciduous woods, forest edges, citrus orchards, old fields, roadsides, and weedy areas.
Reproduction:
1 to 4 pale blue eggs are laid in a cup of grass placed near the ground in thick vegetation.
Natural History:
This species is beneficial to farmers, consuming many insect pests and weed seeds.
Food:
This species feeds on insects, spiders, seeds, buds, and berries.
Comments:
Can be found in South Florida during the winter months.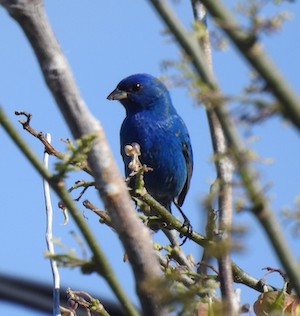 Copyright by: Beryn Harty, 2021.