Please scroll to the bottom for more images.
Monk Skipper
Asbolis capucinus
Hesperiidae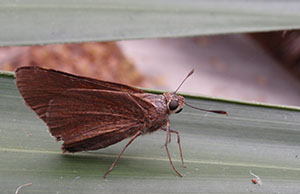 Copyright by: Beryn Harty, 2014
Description:
Medium-sized butterfly with a wingspan up to 2-3/8 inches. The upperside of the male is chestnut brown to black with a gray or black stigma on the forewing; that of the female is light brownish-black with a pale, elliptical-shaped spot on the forewing. The underside is dark reddish-brown and black. The caterpillar is whitish-green with a yellow underside, a rounded orange head and a black edge on the posterior end.
Range:
North America, West Indies
Map of native range by ZIP code north to Indian River and Manatee counties.
Distribution and Abundance in Florida:
Rare in North Florida, locally common in Central Florida, uncommon to common all year in South Florida and the Keys.
Habitat(s):
Hammocks and urban areas with palms.
Reproduction:
Three or more broods per year in Central Florida; more in South Florida. The greenish eggs are laid singly on the leaves of host plants. The caterpillar lives in a tubelike shelter made by tying the edges of the leaf tips together with silk.
Natural History:
One of the largest skippers in North America. Monk skippers are very fast fliers. Males perch waiting for females and will dart out quickly to protect their territory.
Food:
Larval host plants include the native cabbage palm (Sabal palmetto), Florida silver palm (Coccothrinax argentata), green thatch palm (Thrinax radiata), paurotis palm (Acoelorraphe wrightii), royal palm (Roystonea regia), saw palmetto (Serenoa repens), and scrub palmetto (Sabal etonia) and the nonnative coconut palm (Cocos nucifera), commercial date palm (Phoenix dactylifera), Manila palm (Adonidia merrillii) and yellow palm (Dypsis lutescens). Nectar plants include the native narrowleaf yellowtops (Flaveria linearis), ocean-blue morningglory (Ipomoea indica var. acuminata), and sweetscent (Pluchea odorata). Weedy native nectar plants include Spanish-needles (Bidens alba var. radiata). Adults will also feed on the nonnative Madagascar-periwinkle (Catharanthus roseus), Mexican flamevine (Pseudogynoxys chenopodioides) and yellow allamanda (Allamanda cathartica).
Comments:
This species is native to Cuba; it was introduced into Florida during the 1940s through planting of nonnative palms. For more information, visit Butterflies and Moths of North America and Butterflies of Cuba.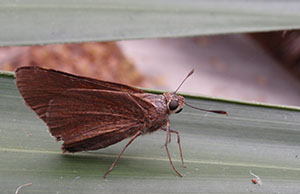 Copyright by: Beryn Harty, 2014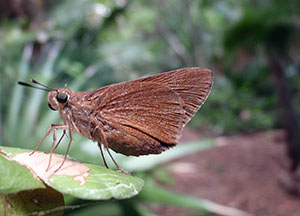 Copyright by: Beryn Harty, 2014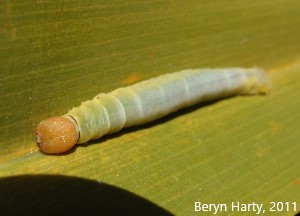 Copyright by: Beryn Harty, 2011
Caterpillar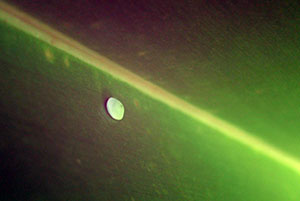 Copyright by: Beryn Harty, 2014
Eggs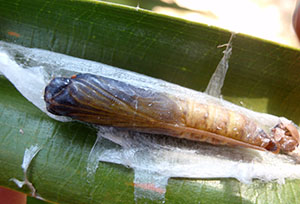 Copyright by: Beryn Harty, 2014
Pupa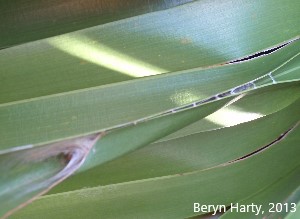 Copyright by: Beryn Harty, 2013
Shelter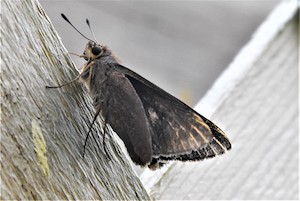 Copyright by: CJ McCartney, 2021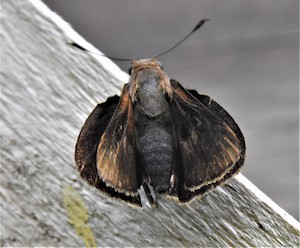 Copyright by: CJ McCartney, 2021